Smart Wetlands: RMB-SU pitch 6 April 2016
Singularity University, a benefit corporation whose mission is to educate, inspire and empower leaders to apply exponential technologies to address humanity's greatest challenges, has announced a new partnership with Rand Merchant Bank (RMB) in South Africa, a division of FirstRand Bank Limited, to launch the first SingularityU South Africa Global Impact Competition (GIC). One of the Merah Mas projects  - Smart Wetlands, placed in the top 5.
Good evening everyone, tonight I want to talk to you about smart wetlands, or, smart swamps for our American friends.
My name is Bernelle, and my avatar is indiebio.
I didn't put a slide up about the water problem, because I think we all know our water situation is dire.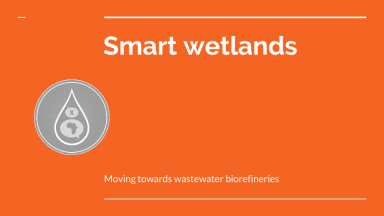 We don't have enough water, and what we have is of poor quality.
I'm a bioprocess engineer, and I have been working in the water industry for the past 6 years. But my passion is biotech, and the bioeconomy. Biotech is fundamentally water based, so the real clinch point in these industries is water.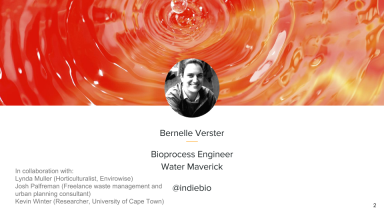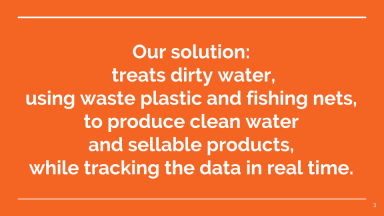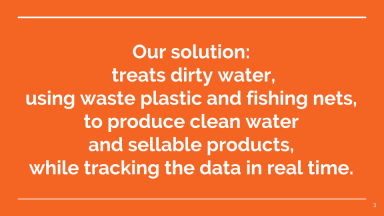 Our solution:
treats dirty water,
using waste plastic and fishing nets,
to produce clean water
and sellable products,
while tracking the data in real time.
This is what these wetlands look like - all images courtesy of Lynda Muller.
And this is how they work.
The plants grow on top of this matrix, and the bacteria grow inside this matrix. Together, they clean the water.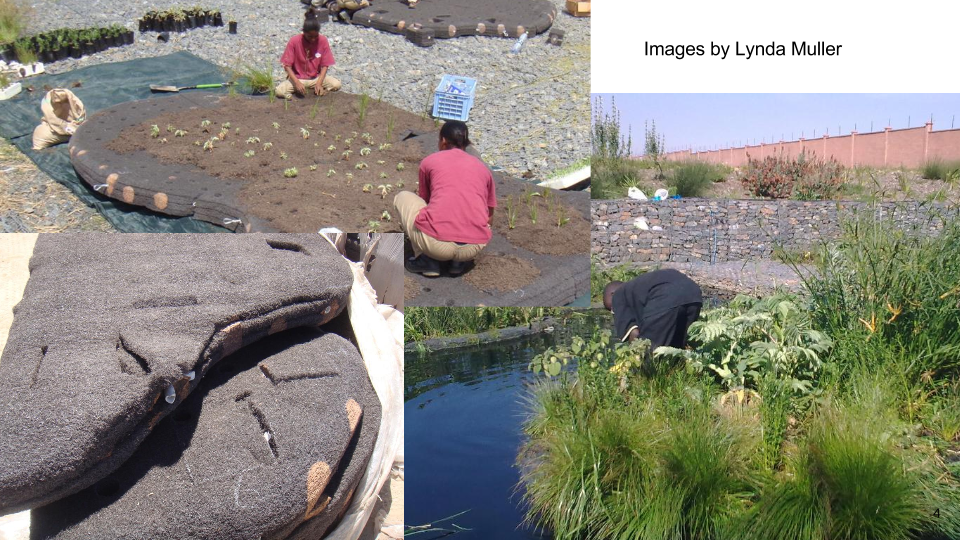 But the plants that grow on the matrix can also be used to produce products, like fibre - for example flax for linen, cut flowers, or even food.
The matrix is made from repurposed plastic, in this case recycled plastic, and then there is the multiprobe, that can record data about the quality of the water in real time.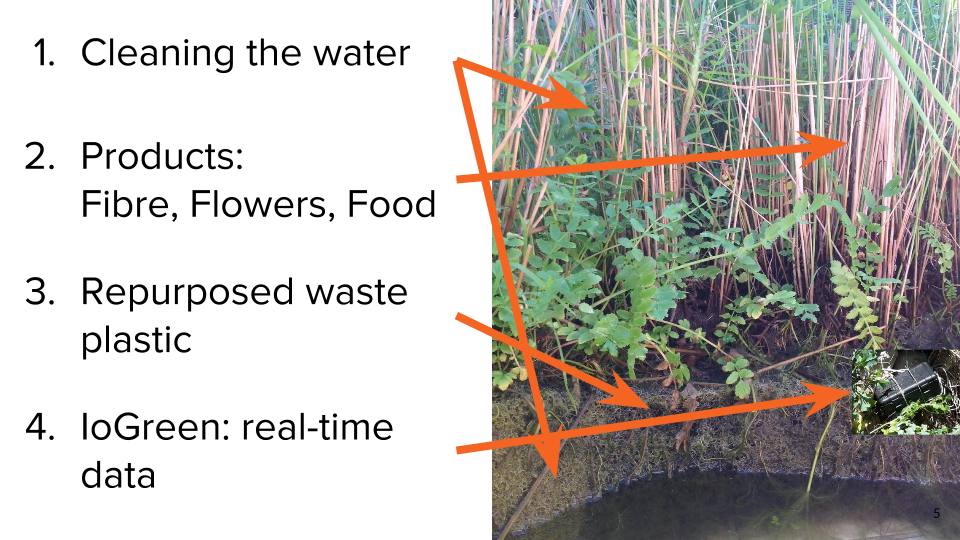 This idea started when Lynda was struggling to fill demand for the matrix. These are all imported, and the current exchange rate made the import option unfeasible, and we could not find a local manufacturer. I brought a sample, so if anyone knows anything, please, we're still looking.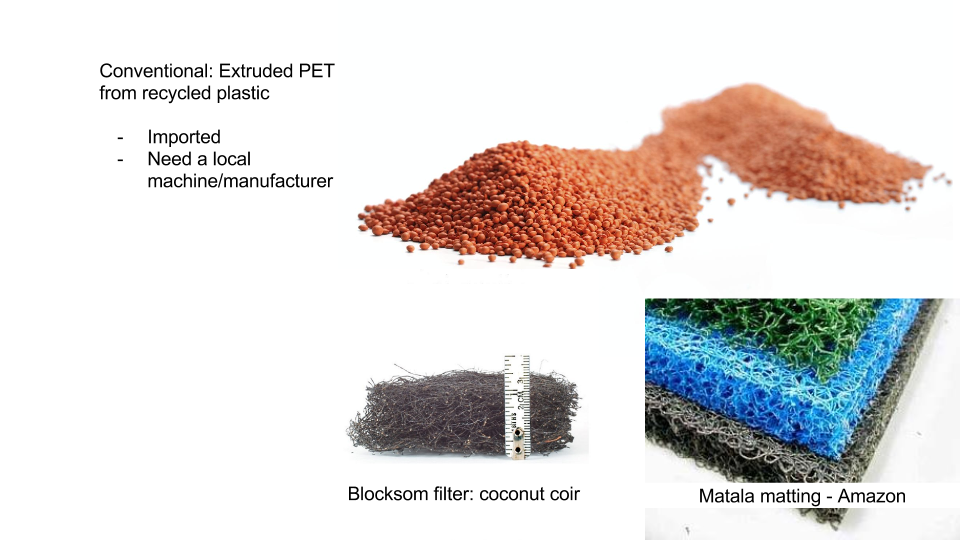 So we decided we need to innovate. We are looking at recycled plastic extrusion like the original matrix, but this involves grading the plastic, melting it and re-extruding it, which is energy and effort intensive. Our early attempt is shown in the middle of this slide.
We are now looking at shredding waste colddrink bottles, with a little tool - have a look at plastic bottle string, it's all the rage on the internet at the moment.
(e.g. this kickstarter project)
(I think we'd have to upscale a little bit, make it a tad more industrial, multiple bottles at a time, but it should still work without power, off-grid, and be very repairable.)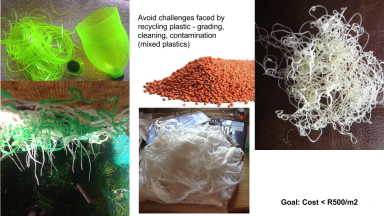 We're also looking at using abandoned, lost or otherwise discarded fishing gear (ALDFG) (See this UNEP report ), and you can see an early prototype which Lynda calls a 'kraai nes' (crow's nest) in the image on the right. This would be great for targeting the East African market, where these nets are a problem, and we'd like to start by using the created wetlands on Lake Malawi. We have a potential base in Mzuzu, and potential partners working along the East African coast already.
Then, the multiprobe. This is developed by a colleague at the University of Cape Town. It is not part of Kevin Winter's research, but he was getting so frustrated with what was available to monitor river water, that he hacked his own probes. He's already managed to get the probes ten times cheaper than what off the shelf components would cost, but I think we can get it even cheaper and more robust with more development.
The probes measure six parameters:
1. pH
2. Dissolved Oxygen, a measure of the health of the water
3. Electrical Conductivity, a measure of the dissolved contaminants in the water - the things we can't see
4. Total Disssolved Solids, a measure of the turbidity of the water, the contaminants that we can see, that makes the water murky
5. Salinity
and 6. Voltage, to check the state of the battery, which is powered by solar power.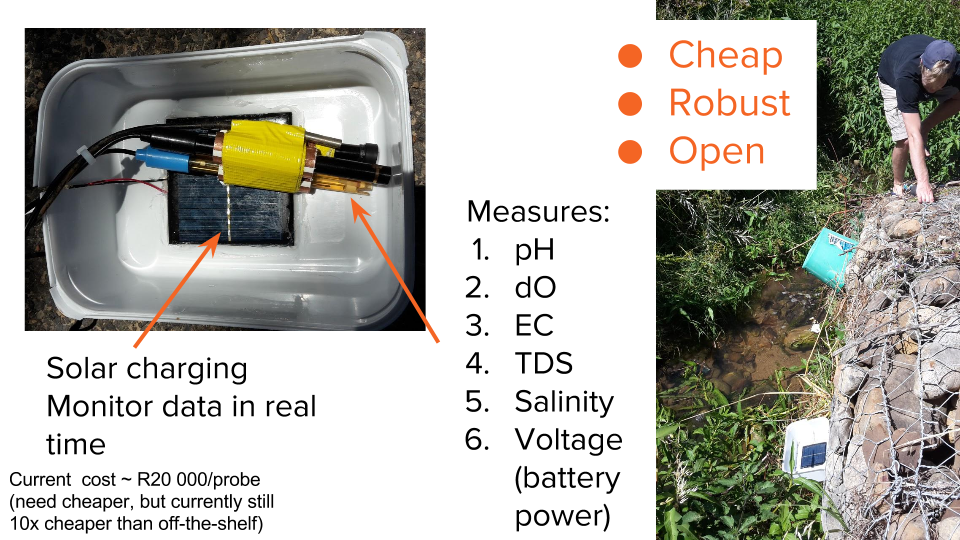 The multiprobes sends data through in real time, so you can check it from your office. These probes need to be used everywhere, because we really don't know what is in our water bodies, so they have to be cheap, robust, and open to allow people to use these for their own data-gathering purposes.
What is the impact of this solution?
Yes, we are cleaning water, and that is important, but what is more exciting is that it can serve as a three-fold catalyst for micro-industries.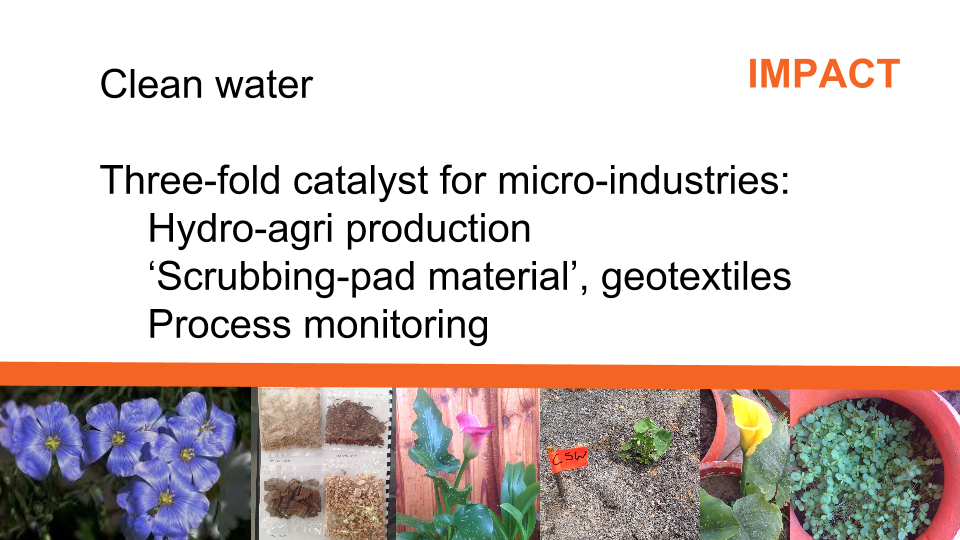 The floating wetland matrix is a tailored solution for hydro-agricultural production - this includes anything from fibre production, herbs and vegetables, to serving as a habitat/protection for fish. The 'scrubbing pad material' is very useful, and the main limit to finding many applications to it is the cost and availability.
Then, the process monitoring approach is critical to the emerging bioecomony, especially in an African environment where more decentralised solutions may be more appropriate.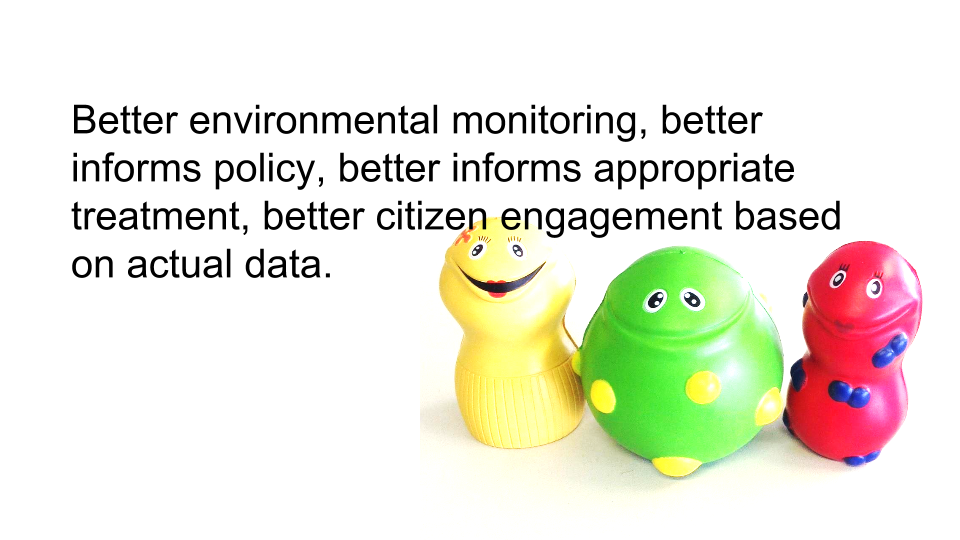 On a wider scale, better environmental monitoring and greater engagement better informs policy, which better informs appropriate treatment, which leads to better citizen engagement based on actual data.
In short, a more science literate society.
The underlying technology is one of integration. This work is based on more than ten years of integrated research on wastewater biorefineries, including aspects of for example, bacterial attachment, biological wastewater treatment, treatment wetlands, and ecological engineering. We draw from global research in these areas and more over many decades.
The short version is, we integrate knowledge of water, biotech and IT, specifically embedded systems.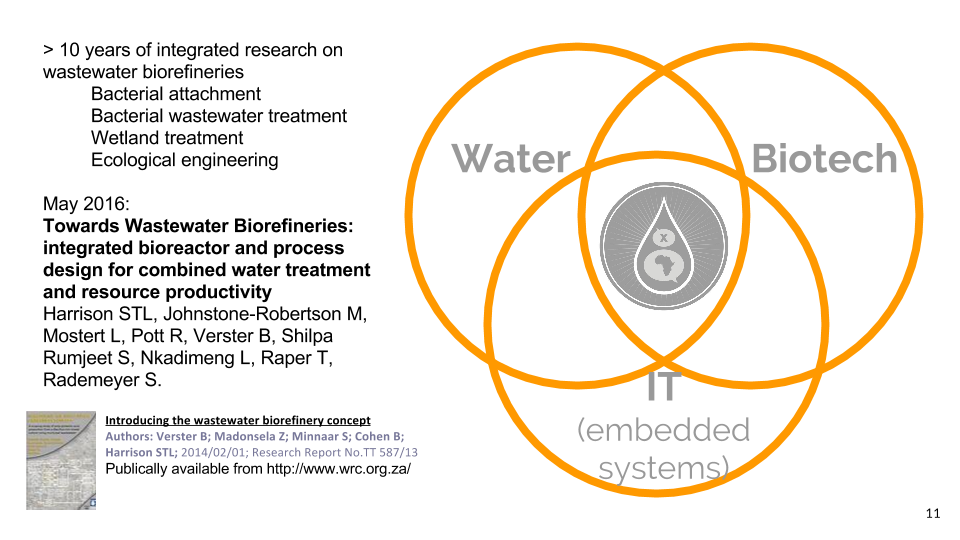 We have published one report already which is publically available from the Water Research Commission (link), and our second project concludes in May, so the report should be available to the public later this year.
Thanks.