"No one deals with more crap than I do"
San Francisco Wastewater talks shit
(still in draft, I'm still a bit slow on the catching up...)
"Without a functioning water and sewer system, you are essentially left with a third-world country," says Tyrone Jue, SFPUC's [San Francisco Public Utilities Commission] director of communications. "Parts of our system date back to the Gold Rush. Parts are seismically unreliable. You can see the effects of climate change on our sewer system, with the rising sea level. But [unlike tap water],which is a tangible resource, the [only] experience people have with the sewer system is the flushing of their toilet. Things going down the drain, and they probably don't even think about it."
"With the sewer system, we've always been playing with the problem of:how do we make a hidden system visible to people?" he explains. "We knew a traditional boring public PSA [public service announcement] wouldn't resonate. It hasn't resonated with people. If we wanted to spark interest, conversation, and to drive participation ... to rebuild and update this system, we had to take a different approach."
"We wanted to leverage conversations that are already happening in our city into people's daily lives, and we knew that the only way we could do that was to not take ourselves so seriously," Jue says. "That's a big challenge when you're coming from a government bureaucracy.
The campaign is spreading, too: @SFWater attracts regular conversations with public utilities commissions in other cities like Washington, D.C., and recently the team posted anapp created for them, totally unprompted, by a local tech developer,called swir.ly, that maps where the hypothetical contents of a user'stoilet flush might end up. The chatter kicked up around the renovationsis upping the stakes for public utilities and civic engagement in anirreverent digital era.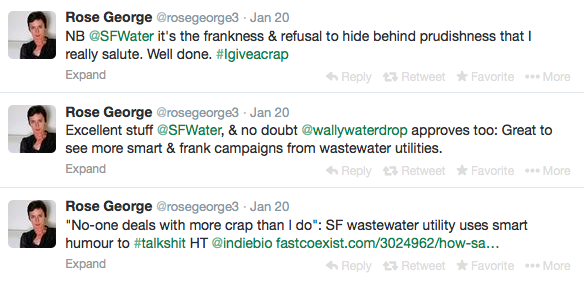 Read the full article here:
http://www.fastcoexist.com/3024962/how-san-francisco-used-poop-jokes-to-save-its-sewer-system?partner=newsletter
Give San Francisco Water a bit of love here:
Facebook: https://www.facebook.com/SFWater
Twitter: https://twitter.com/sfwater