Feedback from IWARR2015
still a little bit in draft.
I recently attended the International Water Association (IWA) first conference on Resource Recovery (IWARR2015), from 30 August to 2 September 2015 in Ghent, Belgium.
I think the research we're doing at CeBER is on par with, and may in cases surpass what was presented at the conference. Below are some take home messages, and some highlights.
---
During the panel discussion on Sunday evening, Patricia Ossewijer (I first saw her on a MOOC on bioprocessing and it was a pleasure to meet her in person) held the view that water faces complex challenges. She cautioned that technology may not be enough. To quote her "Technologies are useful. Technologies on their own are inadequate". She further cautioned that it will not be a sustainable world if we don't address social development. She noted that poor people can own and operate complex technologies (like the cellphone), and so pointed out that we need to link technologies with what people understand in order to change behaviour. A discussion involving the audience was concerned that "we are scientists and technologists and we shouldn't be doing social stuff", which I believe misses the nuance; as technologists, we should do science and technology. The challenge is to do it in a better way.
More notes from the panel discussion:
Common hurdles for resource recovery (RR) is integration into the market, and that industries are specialised, they will not re-specialise to utilise a RR feed stream. For this reason it is a common view as well that the industry producing a certain waste should not be the one recovering it.
Legislation, and economies of scale were also listed as hurdles, but there was a significant portion of the audience with the opinion, which I share, that this is a challenge but not insurmountable.
The importance of marketing was highlighted. Economics was also stressed a great deal, and the current economic advantage is in reducing cost (of e.g. disposal), rather than producing a product from the recovered resource.
The presence of salts that poison a resource was noted. On the other hand, salt recovery seems to be a surprising route - see the Cluster award below.
High cost of resource recovery: cost is not the benchmark for the way forward. It is merely a challenge to overcome while we move to a better way.
Vitalphos is an example of a resource recovery product that found a very niche market application. (twitter image: We don't need to conquer the market. We need only to find applications where our products are better, and that that is very achievable)
Recovery needs to be directly coupled to transformation. Nitrogen and Phosphate recovery is not enough, we need marketable products.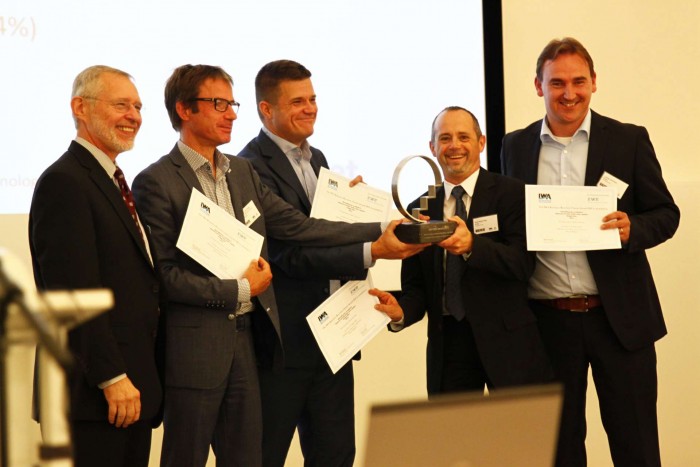 IWA Resource Recovery Cluster Award
There was a IWA Resource Recovery Cluster Award that went to Desso Netherlands (they make carpets), The ArdaghGroup (glass manufacturers) and Reststoffenunie (a Dutch thinktank about resource recovery). It was a supremely elegant solution involving the gypsum (CaCO3) from drinking water treatment:
Waternet: Calcite pellets are recovered from Waternet's water treatment process and recycled as seed material in the softening of drinking water. Changing from a traditional sand core to a calcite core in their softening pellets delivered cost savings, an improved environmental footprint and higher revenues;
Desso: Calcite is used for the backing in carpet tiles. Desso worked with Restoffenunie and water companies to sole the biggest challenge of producing a suitable material at a competitive price. The cost of the dried and ground calcite is higher than what Desso previously paid but with this new product they save on bitumen costs due to better packing.
Ardagh Glass: Calcite recovered from wastewater is used to produce glass. To be effective, calcite must have very low moisture content and low iron content. Ardagh Glass worked with Restoffenunie and Waternet to change to sand-free, lower iron content calcite seeding material, and to develop an environmentally friendly process for drying the pellets using a specially designed truck to lower moisture content using only the engine heat while in transit;
Links relating to the solution:
Academic reference: Circular economy in drinking water treatment: reuse of ground pellets as seeding material in the pellet softening process
IWA network newsflash:'Flash of genius' recycles water waste into at-scale industrial applications
Cluster article: The IWA Resource Recovery Cluster aims to bring together R&D, water industry and materials users, and to promote economically and environmentally attractive approaches to resource recovery. (the below image is from here)
Kees Biesheuvel - "Industrial Symbiosis: A human challenge"
Kees Biesheuvel was probably my favourite presenter. He presented on "Industrial Symbiosis: A human challenge". He is currently involved with the SmartDeltaCluster in the Netherlands, and the case study involved Dow Chemicals.
My two favourite observations of his was:
The importance of iterative planning, of communicating with stakeholders before you have a fully hatched plan so you can develop together and resolve issues before you're committed to any route.
The realisation that logistics of resource recovery is not the core business of the companies involved in the resource recovery. I would like to think about this more, because I think this is a real opportunity for SME's to add value.
He noted that in industrial partnerships, partners don't need to know EVERYTHING about each other. Getting agreement on order of magnitude numbers may well be good enough, and trust is more important. He admitted that you need top management buy-in. Mere employers with good ideas may not get enough momentum to let it fly.
He stressed the importance of an independent, knowledgeable partner acting as a broker in between the companies in a fledging industrial ecosystem. In our discussion afterward he made mention of MUPs - multi-utility providing projects.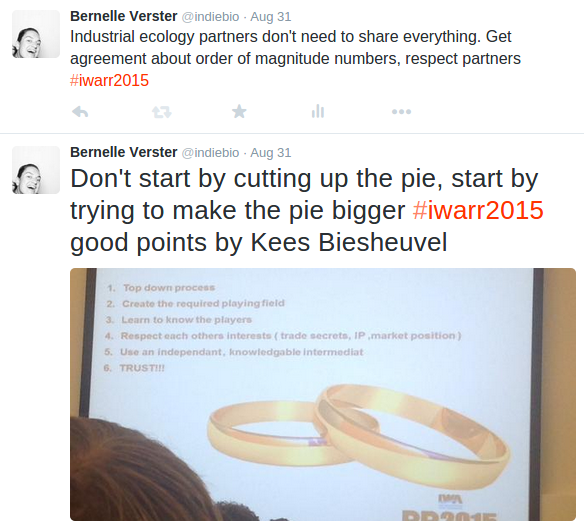 A reference was mentioned somewhere, in context to recovery of valuable metals from wastewater:
Westerhoff P, et al. (2015)Characterization, recovery opportunities, and valuation of metals in municipal sludges from U.S. wastewater treatment plants nationwide. Environ Sci Technol
A counter-argument to this, and many of the presentations at the conference was the impact of entropy: the fact that things are so dilute and distributed means that it may just be too difficult to get out. When I discussed this with Mark van Loosdrecht he said you have to sacrifice some of the advertised profit (the worth of the resources in the water) to get it out - not all of the worth is available to you. I countered that you need to sacrifice *something*, but it doesn't have to be money, it can also be time, if you're willing to wait, you can use a slower, more cost-efficient method of recovery. He said yes, we can wait 50 years for the gold to settle and then mine it out, which wasn't really my preferred answer. But it may well come down to that.
Mark van Loosdrecht - "Wastewater: What are the potential for resource recovery?"
Mark van Loosdrecht gave a predictably brilliant presentation.
A good point that he made, using Phosphorous as example, was that often the recovered product is not the market need, but the avoided costs. It's a sobering thought when you can get so attached to your recovered miracle product.
He also catchily said "We need to create self-organising systems due to economic drivers, that fit modern society". (twitter image?)
He showed the potential of using alginate in cement, which is likely my favourite anecdote of the whole conference. (image and link)
http://repository.tudelft.nl/view/ir/uuid%3Add760c59-7f6f-40b1-9ed7-c96567921a94/
http://delftoutlook.tudelft.nl/article/stone-hard-concrete/
Two data-driven presentations
Matteo Papa was the one region-wide data driven presentation, looking at how Italian wastewater treatment works were scoring on resource recovery (not too well). It seemed only the big plants are recovering. The argument that it is because of economy of scale does not convince me, as I don't think they are doing anything directly related to the market, and smaller plants are often more flexible and can handle more risk, so can play more. I think it's more that the bigger plants are managed more like businesses, while the small plants are all but abandoned at the best of times.
It was soothing, yet depressing, to see that insight and overviews of the flows of urban resources are lacking, everywhere. The other data driven presentation I enjoyed was by JP van der Hoek (based at Waternet), where he looked at the strategies to recover resources from Amsterdam's wastewater. In his presentation, he mentioned 5 products that people are considering from resource recovery:
alginic acid
phosphorous
biogas
cellulose
polyhydroxyalkanoates (PHA)
From these, he considered cellulose recovery as a 'no-regret measure'.
Veolia
Veolia had a very large presence at this conference, and two presentations related to their investigations on PHA production, one by Alan Werker and the other by M Hjort.
I enjoyed Alan Werker's presentation. His article on PHA production from papermill wastewater was one of the first articles I read when I got onto the 'wastewater biorefinery' concept. He spoke about Cella, CellaPol and the PHARIO project. One awesome thing was the 'mobile PHA recovery unit' which I think is an approach that holds a lot of promise for SMEs.
http://technomaps.veoliawatertechnologies.com/cella/en/
CellaPol
http://cellaenergy.com/our-materials/
Arc biocomposites case study: http://biopolymers-bioplastics.conferenceseries.com/abstract/2015/biocomposites-from-waste-derived-polyhydroxyalkanote-pha-mixed-culture-generation-of-polyhydroxybuturate-co-valerate-phbv-copolymers-and-their-inclusion-in-wood-plastic-composites
PHARIO project: http://www.efgf.nl/uploads/editor/Bioplastics-Vetzuren-A0.pdf
http://www.knnadvies.nl/portfolio/projecten_van_knn_bioplastic/phario_project_officieel_van_start%2521/
BIOPOL (Denmark)
Robert Kleerebezem - "Polyhydroxyalkanoate production from papermill wastewater"
Robert Kleerebezem, a colleague of Mark at TU Delft spoke about polyhydroxy alkanoate (PHA) production from papermill wastewater, contrasting their approach to that of Alan Werker's work at Veolia Water Technologies AB (AnoxKaldnes). One of his conclusions is that sewage is too complex to get the volatile fatty acids (VFAs) out, especially as you need the COD to remove the nutrients. They are currently busy with a waste to resource initiative involving Paques. He noted that we need to develop the whole value chain and make sure the big picture makes sense.
http://en.paques.nl/news/news/paques-stw-and-delft-university-of-technology-join-forces-in-biopolymer-production-from-wastewater/2

Techno-economics of PHA
E. Bleumink explored the technical and economical feasibility of PHA production from sewage sludge. The STOWA report is called 'Bioplastic uit slib' (pdf: report in Dutch, above image from the report)
There was a LOT of talk that the first priority of resource recovery is still producing cleaner water. While I agree with this in principle, it is an approach that I feel hamstrings any real progress. I'll concede with Angela Manas-llamas's quote: "Solutions need to be coherent with treating wastewater". Like we said in our research, don't put stuff in the water that will make treating it harder. Implied is, don't limit yourself only to water treatment processes. The audience was also divided by where the focus for resource recovery should be, with excessive focus still going to nutrients for land application, even if this is logistically very difficult and not very valuable. And if it's not nutrients, then it's PHA. Neither are my favourite approaches, by a long way.
On the last evening, there was beer brewed from wastewater as an publicity exercise for water reuse.
Some websites and reports that may be useful
The presentation abstracts can be found at http://iwarr2015.org. Log in with u:Participant p:recovery to download the abstracts.
Report with case studies:http://issuu.com/ruiveras/docs/web_state_of_the_art_compendium_rep?e=18849999/15109598
eu-routes.org Novel processing routes for effective sewage sludge management
SCOPE report with a chapter on water (think it's this one?) http://bioenfapesp.org/scopebioenergy/index.php/chapters/executive-summary
Alginate-cement http://repository.tudelft.nl/view/ir/uuid%3Add760c59-7f6f-40b1-9ed7-c96567921a94/
http://delftoutlook.tudelft.nl/article/stone-hard-concrete/
Cluster award supporting article: http://www.iwaponline.com/wst/07104/wst071040479.htm
Reststoffenunie (site in Dutch): http://www.reststoffenunie.com/
http://en.paques.nl/news/news/paques-stw-and-delft-university-of-technology-join-forces-in-biopolymer-production-from-wastewater/2
http://kunststofkringloop.nl/wp-content/uploads/2014/05/Robbert-Kleerebezem.pdf
http://stowa.nl/upload/publicatie2014/STOWA%202014%2010%20WEB%2011%20april.pdf
http://www.innovatie.waternet.nl/
Cella: http://technomaps.veoliawatertechnologies.com/cella/en/
CellaPol
http://cellaenergy.com/our-materials/
Arc biocomposites case study: http://biopolymers-bioplastics.conferenceseries.com/abstract/2015/biocomposites-from-waste-derived-polyhydroxyalkanote-pha-mixed-culture-generation-of-polyhydroxybuturate-co-valerate-phbv-copolymers-and-their-inclusion-in-wood-plastic-composites
PHARIO project: http://www.efgf.nl/uploads/editor/Bioplastics-Vetzuren-A0.pdf
http://www.knnadvies.nl/portfolio/projecten_van_knn_bioplastic/phario_project_officieel_van_start%2521/