South Africa Bioeconomy Strategy 2013
The South African Bioeconomy Strategy was published in 2013, and I was asked to comment on possible implementation strategies. There are three sectors relevant to this strategy: Agriculture, Health, and Industry and Environment. My focus is exclusively on the Industrial and Environmental component, and I have fairly strong opinions against the other two sectors, briefly discussed below.
The South African Bioeconomy Strategy can be downloaded here:
www.gov.za/documents/download.php?f=207579
Biotechnology is a hugely promising field in the current environment, where low-carbon approaches are fashionable. Biotechnology is very complementary to physico-chemical methods, because of the different specificities of biological organisms and their ability to function in lower quality feedstocks. Because biotechnology is different and complementary to existing industries, however, a different approach to grow the industry is needed.
My personal agenda:
I do not believe the biotech, or green, revolution of agriculture is sustainable because it does not improve soil fertility and the overall resilience of agricultural ecosystems. I believe the only way to innovate in agriculture is through approaches that are similar to Permaculture – that is, more holistic approaches.
I do not believe that biotechnology can give sea-change improvements in health. I believe addressing systemic issues like food, water, housing, have better potential return on investment.
Therefore, I only look at a bioeconomy from the industrial point of view, and the circular economy, or, cleaner production points of view.
Inter-disciplinary bridges are key.
Page 3: "An important development entrenched in the strategy, is the drive to expand the country's shift in focus from developing biotechnology capabilities – and subsequently the biotechnology sector as a whole – to developing a bio-economy, where the biotechnology sector joins forces with the ICT sector, environmental agencies, the social sciences and other technologies, especially IKS community of practice, to create holistic solutions and industrial applications for agriculture as well as the health and industrial sectors, in order to create a world-class biotechnological system of innovation."
As for the skills required, we have a shortage of skilled people, so we need an interim implementation that provides opportunities for semi-and unskilled labour to work, and learn – basic computer skills to enable self-learning through, for example, online course, e.g. Khan Academy, the South African equivalent Numeric http://numeric.org/, EdX, Coursera. Allowing basic tinkering skills people up cheaply and may uncover ingenious inventions from people who by economic necessity or life experience have to think differently. It also builds social fabric and by allowing exposure to multiple disciplines, teaches how to communicate across them.
Venture capital is dead, or should be.
More realistic expectations from venture capitals about amount of returns and timeline of these returns. Need more projects funded that can fly with lower ROI and take a longer time to become profitable, but lasts longer. So a move away from 'blockbuster' solutions, towards more decentralized, localized, solutions. A smaller, modular model may be better. I think we can learn a bit from the emerging 'sharing economy' or 'collaborative consumption' to see how to scale this – both from the successes and shortcomings of this movement.
An article that shares this view:
http://blogs.hbr.org/2014/08/vc-funding-can-be-bad-for-your-start-up/
What Bio-economy can learn from the 'IT-economy'
What would we learn from the IT industry? (only some highlighted here) - points from Mark Dent (Dent@ukzn.ac.za)
How to openly acknowledge the complexity of the realm in which we work and thus engage the required learning journey.
How to gracefully compete for common, vital, limited resources. Their teams compete fiercely for battery energy & physical space in their designs.
How to learn from other disciplines eg organizational behaviour ; to the point that they are adding greatly to knowledge in this area.
How to turn the tragedy of the commons on its head; the more we feed on common knowledge the more it grows (open source code, open information sets, internet).
How to transcend disciplinary,organizational & inter-organisational boundaries, gracefully and productively.
How to build shared visions at a range of scales and move incentives and rewards to underpin them.
How to create critical mass when skills are scarce.
How to use redundancy and overlap to reduce risk and increase innovation speed and integration.
How to compete and co-operate simultaneously to grow the joint market.
How to control & direct vastly complex and creative systems without laws and policemen.
How to set free the enormous innovative power of self-organising without losing control.
How to "measure & reward"the innovative contributions of team members.
How to turn myriad failures into learning experiences that accelerate learning to unprecedented speeds.
How to develop ways to collectively see the whole picture, and our part in it, before we have physically created the picture.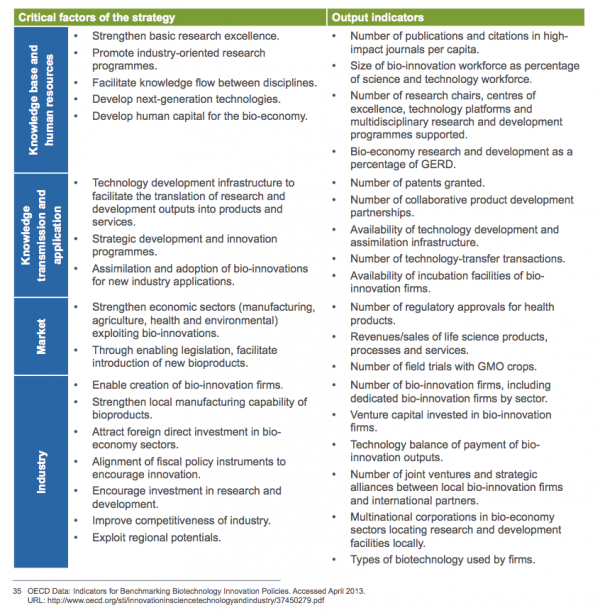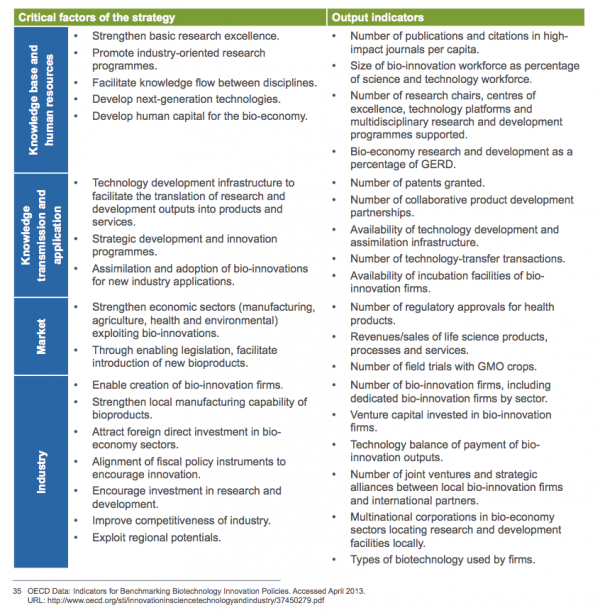 Notes on "Annexure 1: Indicators for Benchmarking Biotechnology Innovation Policies" (image above)
I agree with the critical factors, but I don't think the output indicators really translate to improving these factors. I feel like the 'in between steps' are missing, which is I guess the implementation plan, but I don't really believe the implementation plan should try to lead to these outputs.
I think the number of collaborative product development partnerships is a good output to aim for.
The last 6 output indicators are relevant, but so generic that they aren't really useful.
I think it is important to focus on open source rather than patents, but I still need to find good references to justify this.
Notes on "Annexure 3: National Biotechnology Strategy Review"
(page 40 - 43 in the report)
Proposed objectives and interventions that I believe ShackLabs can contribute to (and hence these are more important to me):
Develop and retain appropriate human resources for biotechnology.
Support sustainable industrial development using biotechnology.
Challenges that I believe ShackLabs can help address (and hence I set higher priorities to these in an implementation strategy):
Research institutions work in silos.
Inappropriately skilled and inadequate science and technology workforce.
Shortage of entrepreneurial skills and technology transfer skills and mechanisms.
Poor capacity to absorb science and technology graduates.
Unemployment among life science postgraduates.
The 'innovation chasm'
Marketing and communication strategies to promote South African innovation (including for foreign direct investment).
Unable to use knowledge pools effectively.
Uptake of mobility funds for experts and students has been slow, probably due to marketing and communication challenges.
Inability to increase absorptive capacity of the system and create new jobs.
South Africa remains a technology importer with a large negative technology balance of payments.
Mismatch in the risk and return of capital budget investment.
(Note to self, I need to address these point by point in a ShackLabs business plan/concept doc)
Requirements of an implementation plan:
Cross-communication skills between different disciplines.
Business skills, coaching, innovation-guidance (e.g. through IDEO-type workshops), entrepreneurship courses for bio-support fields like agriculture and wastewater, organic waste treatment.
Conclusion
Ultimately I believe that policy interventions and grandiose implementation plans can do very little to promote any industry or economy. The best governance structures can do is to get out of the way and respond to issues as they come up. Removing barriers to experimentation where the ethical and legal aspects prove to be constitutional and helping with the import of expertise and resources (hardware, internet, specialist knowledge and exchange programmes in particular) are ways to achieve this.
I have also concluded that it is pointless to try to get people to listen and buy in to 'my'/any particular vision. Equality and poverty alleviation is not actually on the agenda in this overly tech-centric approach, they are empty words in these documents and discussions. It is better to get on with it on the fringe, out of the limelight.
I believe that smaller-scale entrepreneurs – garage tinkerers will be the best place to start developing a biobased economy. The emerging craft beer movement, for example, should be used to expand an understanding of biotechnology, and I believe home mushroom growing and cheese-making is on the rise too –these are excellent opportunities to get more people involved, get more excitement about biotechnology from both students (building capacity) and inventors. I would focus on the issues that GM-in-your-garage (BioPunk, DIYBio movement) may raise, as well as support for bio-hobby-ists. I would also focus on creating more cost-effective (by ORDERS of magnitude) the analytical and process control capacity to adequately control the bioprocesses, and allow better understanding and measuring of the process in order to create better and more realistic business concepts.
Other notes
P 4: "Biotechnology will play a crucial role in helping to improve the heat-resistance and drought-tolerance of crops"
We have heat-resistant and drought-tolerant crops. The problem is that people don't want to eat them – it's a matter of marketing, not biotech.
P4:"The industrial bio-economy focuses on two areas – industry and sustainable environmental management. The former involves bio-based chemicals, biomaterials and bio-energy. The latter involves water and waste as a means of providing environmental sustainability for the industrial bio-economy." – Agreed.
"The Bio-economy Strategy's key objectives with regard to industry and the environment are to prioritise and support research, development and innovation in biological processes for the production of goods and services, while enhancing water and waste-management practices in support of a green economy." – Agreed, but as much (or even more)emphasis on supporting services – analysis, process control etc, than the actual bio-innovation.
P6, future prospects: I think the pharmaceutical industry as a commercially viable enterprise is dying.
P14 "provide funding and complementary services to bridge the gap between the formal knowledge base and the real economy"
P14""Non-scientific skills", such as business skills, legal and regulatory expertise, and knowledge of financing … are equally important."
P15 "To harvest local research and development for commercialisation, the country should build its capabilities from the bottom up (through training, research and development), while accelerating efforts for the development and establishment of support facilities and suppliers (backward integration) and technology localisation."
P17 "A major characteristic of this model is the focus on niche sectors that meet domestic needs first, but have potential to become globally competitive over time. Innovation in these countries was driven by public research institutions and a mixture of supply-and- demand policies."
P 20 "Instead, the Bio-Economy Strategy will endeavour to make these solutions centrally available to all role players through technology service platforms." – at what cost? Previous attempts were unaffordable and poorly managed.
And P35 "Pilot-scale infrastructure to support bioprocessing is available at the Council of Scientific and Industrial Research (CSIR) and the Technology Innovation Agency's Umbogintwini bioprocessing platform, but these are underutilised. Access to these platforms will be expanded to allow entrepreneurs to test their production systems."
How does this strategy compare to places like the Workspace in Hout Bay, http://www.justdiy.co.za/ , or the Cape Craft & Design Institute, Product Support Space http://www.ccdi.org.za/develop-your-product/the-product-support-space. This approach of providing access to the general public (not just bioscience graduates or professionals who have affiliations to institutions, of opening up more, creates a wider pool of potential talent who might be interested in using the more sophisticated platforms. This wider starting base also allows the users, 'unknown civilians', to build trust and reputation, and build a track record in lieu of having institutional backing. The bio-pool of interested people is too small on its own.
P 22 – Effective Communication and Marketing.
"As the bio-economy comprises a complex set of technologies that are often explained in terms that are heavy with jargon, the public's understanding of it remains limited, especially with regard to biotechnology. Yet the public already interacts with bio-based products in the form of food, medicines, vaccines and environmental interventions on a daily basis. The Bio-economy Strategy strongly supports initiatives to promote public understanding of the technologies underpinning the bio-economy."
P23 "While the country produces enough food to meet local needs on a national scale, there is widespread household food insecurity." – so then the problem clearly is not about producing 'more'!