Forbes!
Bernelle Verster was featured in the August 2012 edition of Forbes Africa - as part of their Women's month efforts.
This is a final edit of the article, corrected to the final print as far as possible.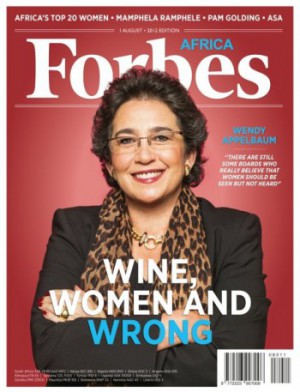 POOP SCOOP, HOW TO
MAKE MONEY FROM WASTE
- by Sumitra Nydoo
It's not often you find young women sorting through crap, 31-year-old Bernelle Verster is and she's making a career of it. Raised in Johannesburg, South Africa [damn, they edited out Benoni], Verster is studying for her PhD in bioprocess engineering at the University of Cape Town. She specializes in sifting through wastewater.
"I look for the nutrients in the sewage", says Verster.
And who would think that there are actually any nutrients in latrine water. Verster of course!
She's been thinking about this since she was 12. She first realized it was possible whilst doing her Masters in the United Kingdom in 2005. As she explains this very technical process, the water, so to speak, is looking less murky. When waste matter enters the sewer system it flows through the various purification processes. On its way, it passes through a few units where most of the gunk is held back - this becomes biosolids. Now only dissolved waste continues to flow through, and goes through a reactor, or 'house' as Verster calls it. Micro-organisms or 'tiny bugs' from various origins like your gut, the soil and food matter, attach themselves to the walls of this 'house'.
She tries to break it down for me in colourful ways.
"It's like a soup, and the bacteria, the fungi and small animals feed off the contents".
Verster then scrapes off the bacteria 'bugs', which formed a slimy white substance. This slime is processed and dried. Once harvested, it can then be used in various products from cleaning to soil improvements, hydrogels - which are used in diapers - and, someday, perhaps even bioplastics in the textile industry.
For now, Bernelle aims to put it back into the water to further purify the same water that produced it. This process is especially important to Verster because it's inexpensive and needs no transport. Her research is focused on producing green products cheaply. The biosolids, removed in the beginning of the process, can also be used to produce enough biogas to power the treatment plant, making the entire process even more cost-effective. Some of the gas has been used in trial projects in South Africa to power stoves and industrial ovens and is also widely used around the world.
"This is a natural source, I take the bugs and set them to work again - they're less abrasive than some of the harsh products currently being used in water purification. I want to use what we have already to make something else, something new and exciting," she adds.
Verster is enthusiastic about what she's doing and is using her skills to empower others. A few years back, she won the regional leg of an entrepreneurship competition run by the South African National Innovation Fund. Taking part in the competition gave her an insight into the business world. "I learnt the basics about starting a business, how to run it and how to market it."
She is now using the knowledge to raise awareness about her PhD, biology, science, engineering and the processing of raw sewage to produce products which can alleviate some of the issues facing South Africa. As the Green Drop Report, an evaluation of treatment works in South Africa, states: "Adequate wastewater treatment is the first barrier in a multi barrier system of ensuring safe drinking water quality."
Water is already being bioprocessed in South Africa - in fact, the country leads the world in biological nutrient removal. The treated water is being used by large businesses which use water for production and manufacturing and to water golf courses. But there's still a long way to go before the water can meet government standards.
"Everyone wants to go green, but going green is often an expensive exercise. Here we've found a way to go green cheaply. Why waste the waste when we can use it," says Verster.
Water bioprocessing has the ability to evolve into a multibillion rand industry, but needs significant investment, she adds.
Verster and her friends have started a learn-on-the-run entrepreneurship program, showcasing good ideas and building business skills through real-world interdisciplinary projects.
"We want people to start talking about this process, so we teach students how to market the science, and make business sense out of it. Students often have technical expertise but they don't know how to tell the public about it," she says.
"The reality is that water is a scarce resource - it is recycled in every sense, there's no new source of water from the time of the dinosaurs. It's the same water that comes from the oceans, goes into rivers, ends up in the soil and back in the taps. If we pollute it in one place, one day those bad things are everywhere, even inside you. It's everyone's job to keep our water safe."
True to her vision, Verster wants to encourage entrepreneurs to sell the idea, and generate revenue without harming the environment. She wants to develop entrepreneurs who build ecosystems not empires; who work with the big picture and not in spite of it; who see nature as their model, measure and mentor. She wants entrepreneurs who regard money as a tool in the larger process. Her belief is that the way we do business is about to change in a fundamental way.
[edited out: Businesses will shortly not just look at making profits from their processes, but also look towards the bigger picture, and contribute to improving social and environmental process through their core operation.]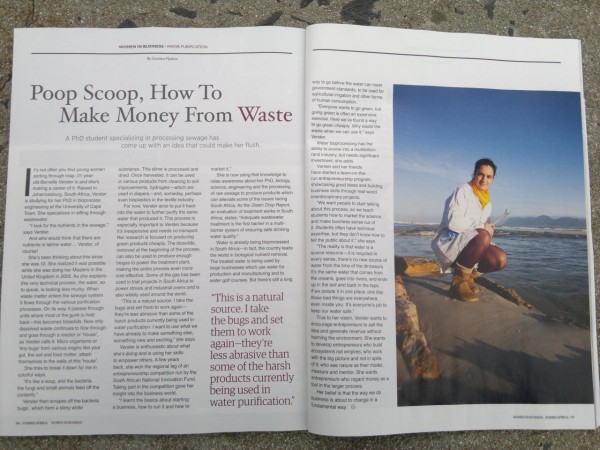 Bernelle Verster in Forbes Africa, August 2012 issue.